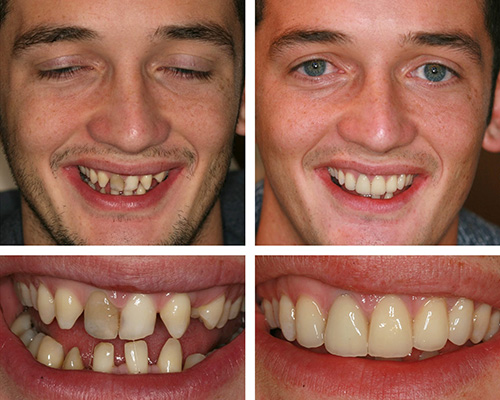 Laminate veneers are among the most popular cosmetic dental procedures for individuals looking for a complete smile makeover or restoration. A dental veneer is a thin shell made of plastic and shaped to resemble the front of a tooth. We can place this cover over teeth to hide discolouration, missing teeth, gaps, and other flaws.
The shells are purely cosmetic, however. As a result, they can't be used as a form of dental treatment or for a fracture, and they can't serve as a substitute for dental implant surgery, crowns, or root canal treatments, rather than improving function, enhancing your smile line, or giving you a Hollywood smile line.
---
Zirconium Full Veneers at Dental Marmaris cost £195 ($219 or €269) or $269, depending on location. In Turkey, a Full Set of Veneers includes 20 veneers and costs £3900 ($4380 or €5380) without any reductions. We only utilize Premium Quality Straumann HT Zirconium Full Veneers in our treatments. If you would like to receive a customized treatment plan and pricing for dental veneers in Turkey, please fill out our form on our dentist in turkey prices page.
The procedure for patients in the UK or other European countries may start at £600, but it frequently costs thousands more. Lab charges are incurred during creating your custom shells because lab technicians must adapt them to your teeth. When all of the laminate veneer prices are included together.
To make matters worse, dental insurance does not cover the cost of veneers because they are regarded as a cosmetic dentistry procedure. We provide patients low-cost veneer packages for high-quality resources, which is why we may give our patients the advantage of low operational costs.
Due to lower costs for our centres and facilities, technicians, and dental technology in Turkey, patients flock to us from all over the world. As a result, the reduced cost of visiting a clinic in Turkey and our veneers bundle means you may save up to 70% or thousands of dollars. In addition, your therapy may be carried out at one of our clinics in 5 days with just three visits. This allows you to finish your treatments on vacation and then fly home when you're done. If you wish to learn how much a complete set of veneers would cost in Turkey, Please contact us via WhatsApp, and we'll send you a free quote immediately.
Veneers are a cosmetic treatment that can significantly improve the look and health of a patient's mouth. This is why they're frequently used in smile makeovers, particularly for restorations: the dental treatment masks discolouration, cracks in tooth enamel, gaps, and other flaws. As a result, if you're searching for a bright and perfect Hollywood smile, these shells are your best option Veneers aren't always the ideal answer to all your oral difficulties, however.
If patients have severe damage, deep decay, or teeth grinding and have trouble with misaligned/malformed teeth, they may require further therapy. In this scenario, dental implants, crowns, and root canal treatments make more sense. Not sure what you need? Please send us your dental pictures so that our cosmetic dentists can examine them and give recommendations. We'll reach out to our cosmetic dentists and get back to you as soon as we can.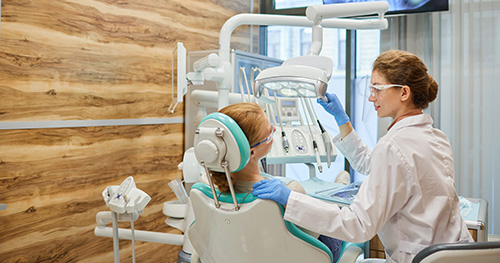 Thanks to modern technology, veneers are now created from improved materials than ever before. Porcelain is still the most popular material for restorations because it has an enamel-like appearance and finishes. On the other hand, Laminate veneers are a type of porcelain veneer. However, there is a distinction between bare dental shells and laminate veneers.
The most significant distinction between the two is that laminate veneers are significantly thinner, ranging from 0.5 mm to 1.2 mm thick. Despite their thinness, laminate veneers are recognized for their toughness. Dental Marmaris Clinic offers patients high-end brands such as E.Max that utilize unique materials and provide longer-lasting surfaces. You may discover more about this firm below and get a discount on your services.
The majority of patients are interested in laminate veneers. In actuality, it is a simple procedure that does not cause any discomfort at Dental Marmaris. Here's all information about this procedure, including specifics and conditions: four primary stages must be completed: Treatment planning for an individual patient - measuring jaw angles, x-rays, etc.
The process begins with the technician taking impressions and placing them in a particular mould, which is then bonded to a cast. After that, technicians construct shells out of wax using a variety of moulds before adding porcelain veneers. The final stages are the same at both clinics: bonding veneers to patient teeth and fine-tuning them. At Dental Marmaris clinic, the procedure takes just five days and entails only three appointments;
This is brilliant news for individuals taking a vacation and who would like to return home. You may return home after your treatment is finished. Our cosmetic dentist will consider if shells are the best method of dental care during the initial consultation. They might take a bite check or an x-ray of your jaw and teeth to evaluate various angles. If you meet the criteria, you'll work with the prosthodontist on the appropriate design, colours, and shades.
Following this, your will take each tooth form in an impression. Our staff will utilise these to create a unique design in the lab. Your teeth will be ready for the shells at this point. You will receive temporary teeth for a trial period until your permanent shell veneers are prepared. Your cosmetic doctor will examine whether the porcelain veneers fit you correctly or if our laboratory technicians need to make any adjustments during your second visit.
The third appointment is when you get your permanent veneers. You'll also need to make one more appt for a final examination. Now that porcelain veneers are more durable, and they require special care. It is critical to follow your prosthodontist's instructions precisely. This entails thorough brushing and flossing and avoiding eating hard foods or attempting to open bottle caps with your teeth. If you grind your teeth at night, we will provide you with a night guard during your appointment.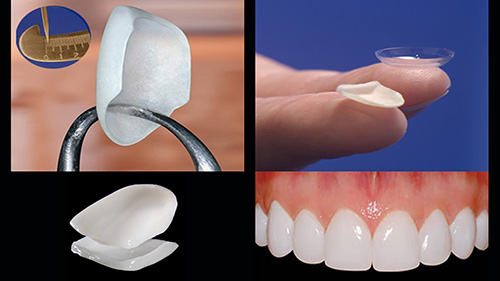 E.Max is one of the most popular brands among dental clinics and centres worldwide. Ceramic veneers made by them are well-known for their sturdiness, durability, and longevity. The translucent finish on these shells provides a beautiful smile. Due to its natural beauty, most patients choose E.Max covers for restorations. The E.Max laminate veneer collection includes a variety of white colours options.
So, you may select one that is ideal for your smile without worrying about artificially white colour. The E.Max shells' toughness also ensures that patients are not restricted in what they eat or drink, and these outcomes and finish may be rather costly in terms of cost. On the other hand, Dental Marmaris offers low pricing while maintaining high standards of service.
Vita Suprinity is the first and only company to use zirconium veneers consistently. These shells are created from glass-ceramic reinforced with 10 per cent zirconium, a mined mineral that is naturally occurring. The brand developed the world's first zirconium-reinforced lithium silicate ceramic veneers. Zirconium vines have one of the unique looks imaginable. The main advantage of using zirconia vines is their natural appearance – because they are more translucent, they provide more natural hues when installed.
Zirconium veneers are made of a highly flexible and aesthetic composite material that allows laboratory technicians to colour the shells to match the surrounding dentition, improving overall aesthetics ideally. Zirconium veneers are known for their durability and beauty, as well as their ability to endure. They're durable and don't break easily. Despite this, zirconium veneers are also relatively thin and feel no different than natural teeth.
As you may guess, this result comes at an extremely high price. However, we provide patients with cost savings on running expenses, allowing us to keep the overall price significantly lower than those in Europe.
Prosthodontists, or specialists in prosthetic dentistry, are members of our dental team in Turkey. They've received training to use Cosmetic Dental Treatments. Dental Turkey Clinic can help you learn about dental veneers, customized looks, and pricing by scheduling an appointment.
Are you thinking about getting laminate veneers? If that's the case, you should know all the details before deciding on the treatment. So, here are the top advantages and disadvantages: Let's start with the advantages for patients who have had laminate veneers treatment: Food, acid reflux, over-brushing, and grinding can all contribute to your teeth's deterioration. This layer cannot be regenerated once it is damaged, leaving the softer regions of your teeth visible. This is when porcelain laminate veneers have their significant benefit. These lightweight coverings are composed of high-durability materials that may be used as supplemental substitutes. They will help protect the exposed regions after they are applied to the front of the natural teeth.
The Hollywood smile is rare. In many situations, individuals must deal with small gaps or a slightly crooked tooth from time to time. However, the problem with minor flaws is that many dental health practitioners will not conventionally address them because they aren't worth the trouble.
The good news is that veneers are an excellent option for correcting such problems. See, our team can mould these shells to any form or size, and they come in various colours. As a result, your oral health practitioner may create ones that conceal a misshapen tooth or a gap. There will be no structural alteration to this problem, simply cosmetic.
Foods and smoking can harm your teeth, resulting in numerous stains building upon them. These stains aren't always easy to remove, and tooth whitening is only a short-term tooth discolouring answer in many circumstances. Oral health specialists will also do nothing to brighten damaged or weakened dentition because the treatment is quite rigorous.
On the other hand, Veneers allow you to select your colour and tone for your smile, just like celebrities! Because you have more control over the precise shade, it appears more natural. The most significant thing is that most contemporary shells are composed of stain-resistant material, so even if you continue with your previous habits, it's unlikely that they'll get discoloured again!
Let's check some of the problems that patients might have with this therapy:
Although high-end veneers require excellent materials and craftsmanship abilities, it is critical to remember that they are not easy to obtain. Each surface must be carefully crafted for your teeth for a more natural appearance. As a result, the overall cost might be substantial - thousands of pounds in many cases. It's worth noting, however, that this is typically the case in the United Kingdom and other European countries as well as Australia and North America. Dental Marmaris Clinic will provide you with a much cheaper quote.
In general, dental treatments and restorations in the United Kingdom range from £1000 to £2000. The cost of a consultation, dental x-ray, laboratory testing, and numbing injections might add up. However, in Turkey, shells of equal quality begin at £125 because prosthodontist fees and operational and treatment expenses are lower. If you want veneers in Turkey, consultations are free; laboratory charges, dental x-ray costs, and numbing injections are not charged. Overall it is a wise investment.
To place veneers, your prosthodontist will have to make several adjustments to your current dentition. The most frequent therapy is to remove a thin layer from the front of your tooth. In certain situations, though, the dentist may need to rebuild or repair it as well.
Because of this, these shells may be referred to as a non-reversible treatment. You'll need to continue with this covering once you acquire them. There is no guarantee that it will survive the ten to fifteen years required for new sets, so patients must return to their prosthodontist for another set of veneers in ten to fifteen years. As a result, if you are getting veneers, you should be sure about your decision 100 per cent.
We administer the required anaesthetic injections during your veneers treatment to ensure that you feel no pain or discomfort. However, as part of the exterior layer of your teeth is removed, tooth sensitivity can temporarily rise, much like with root canal treatments. This is because specific components of your tooth are now exposed to heat, cold, and other stimuli for the first time.
Now, we'll give you the medicine to reduce your sensitivity. After the repair, the shells should shield your tooth from such attacks. It might take some time for you to acclimate yourself to it, though. Some kinds of toothpaste and dental treatments can help toughen the outside of your teeth to minimize these feelings.
Porcelain laminate veneers in Turkey can make a significant difference to your smile. If you want these benefits to continue, you must understand how to care for these newest fittings. While a decent set of porcelain laminates in Turkey shouldn't cause you any issues, there are a few minor adjustments that you'll need to make. Here are the most important instructions to bear in mind:
Veneers give you a trial period before the final ones are attached. This is an excellent chance to learn more about your long-term shells. Not to mention that you have the option of requesting changes in terms of shade, colour, or size; it would be best if you kept in mind that the temporary teeth for the test run aren't as well-fitting or high-end as your long-term alternatives.
You should pay attention to any aftercare instructions that your prosthodontist provides you with as a result of this. The majority of people have to brush using specific toothpaste. Because these crowns are only intended to stay in place for a short time, the adhesives aren't as strong. Due to this, you'll have to consider if you should take a break from flossing for a while. It's important to remember that until your permanent veneers are fitted, you must avoid eating hard, very hot or cold meals carefully.
Your permanent shells are composed of a higher-strength material, and they're more rigid, better fitted, and bonded closer than your temporary shells. You should nevertheless be aware of how to care for your veneers as well as the dentition beneath them. This is the only way to avoid tooth decay and damage your smile without harming it. Here's what you need to know:
If you eat anything with intense colour, make sure to rinse your mouth thoroughly. The stains should not adhere to your veneers as a result of this. Brushing twice a day should also be effective. For your dentistry, you may visit the nearest dentist who can polish them for you.
Veneers are not indestructible, which implies that they can still be harmed in various ways. Biting down on hard foods like ice or hard candy is one of the most common methods for this to happen. Hairline fractures or chips can result from biting down on such items. So, if you wish your veneers to endure longer, avoid eating things like ice and hard candy. Veneers are also employed for aesthetic reasons nowadays. As a result, you don't want them to get dirty or discoloured. As a result, you should restrict your tea, coffee, red wine, and other meals that might cause the colour of your veneers to shift and destroy your smile. Cigarettes and cigars can also do this.
Do you bite or chew on other things unconsciously? This is something you should attempt to cure as soon as feasible. Like those of hard foods, these behaviours may put a lot of strain on your teeth, and as a result, they are more likely to fracture or suffer damage. Another thing to consider is bruxism (or "jumping teeth") or teeth grinding. This usually happens when you are sleeping, and the friction created by this grinding erodes the veneers in your teeth. If you detect a problem, you must address it immediately. Your dentist will advise you to utilize a mouthguard while sleeping to avoid your upper and lower dentition rubbing together in many situations.
Dental veneers in Turkey are typically replaced at least once or twice a year, following completion, with a prosthodontist. Naturally, after dental veneers in Turkey have healed, you should make an appointment with a prosthodontist at least once a year. Regular cleaning is an excellent method to maintain your surfaces and smile looking white and healthy.
They will address the problem straight away due to these findings. It would be best if you kept in mind that your veneers will need to be replaced at some time, and your dentist will be able to identify these signs so you can schedule when we should replace them. In any case, regular checkups ensure that both your teeth and veneers stay healthy.
Here are the top laminate veneer care instructions that you need to know. It would be best to have any difficulties with your veneers as long as you follow these instructions. However, if you believe your veneers don't fit properly or come out, you must notify us right away to fix the problem since Dental Marmaris Clinic's warranty covers your veneers.